Is Kochi M G road dying. .?
A lot of shops are shutting down.
No parking during day time
.
No traffic during night
.
Many feel it is because of the Lulu mall which is offering a one stop solution..
I have fond memories of once the most prestigious commercial address of the state..in my college days,I used to frequent this road in many a weekends & on vacations..it gave me a lot of positive energy while shopping& while doing window shopping..
Paico for magazines & books, the Abad Plaza shop to buy the latest in music albums..,'Remanika',Seemati & Jayalakshmi, Alappat & Bhima,old Ceylon bake house for Biriyani at lunch time,..Bimbis,.. Dwaraka & Woodlands, the first Chick King opposite to Maharajas,Zodiac,Jos Brothers,Parthas,Sylcon..'Pandal' for Chinese food..came to the state's only big screen Vistarama projection 'Shenoys' to catch the latest in hindi & English movies,it was one up on our pride 'Ragam' in TCR…the massive 'Kavitha' & 'Padma' added to the choices..I have fond memories of watching 'HAHK' in Shenoys,..'Rangeela' & 'Speed' in Padma,..Archies in Convent road to buy cards & wall posters..A glimpse of beautiful students of St.Theresa's gave an added joy..also the ravishing north Indian girls who came from the Southern naval command..it was also the old airport road for us..that one big stretch of road..the road was so colourful those days..could spend an entire day walking leisurely from one end to another..I recently thought of taking a room in one of the hotels in the street in weekend & rekindle the old memories by walking from one end to another..
The corporation & town planning department of Kochi should have been more careful in anticipation of eminent competition that came in the form of one stop shopping destinations..
classic example is Istanbul..people still love the charm of shopping in 'Taksim' street than the big malls that have come up in the city… the 'La Ramblas' street shopping experience in Barcelona than any mall in the big city…they all had that far sightedness..
These days for a lot going to Lulu is more convenient for shopping as it offers everything under one roof..but for me it is like reading in 'Kindle' than the nostalgic touch & feel of a real book or magazine. I am a voracious reader,for me i never liked Kindle..i get almost a same feeling thinking about the MG Road..
It is never too late..they can still restore it to the old glory..In Trichur,we were sad when our Ragam closed,it was not merely a theater for us..it was much much more..we were overjoyed when it reopened a couple of months before..
Please give your feedback,as I feel sorry for the shop keepers there..many of them are familiar faces for long..they are in a state of sheer helplessness or they don't know how to come out of it..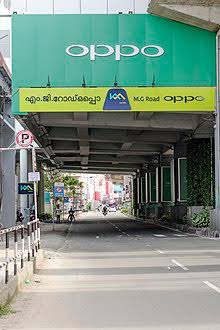 Faisal K Subaid